Existing Bible Studies
New and Re-newed Members Class – For those interested in becoming Members of Trinity and for current Members seeking a refresher of what it means to be a member based on what the Lutheran Church believes, teaches, and confesses. Beginning date TBA. Contact Deacon Anthony ACavaliere@trinityhicksville.org
Tuesday Afternoon – Everyone is welcome to participate in this weekly Bible Study held in the Stammel Center at 3:30 PM. Come and learn how God loves and guides His people through all circumstances.
Wednesday Morning – This Bible study for women is held each week at 9:30 AM in the Youth Senior Room. The first meeting is September 12.
Wednesday Evening – This study is for Sisters-in-Christ who explore God's Word, seeking to discover His will for their lives and how to apply this in daily living. The group resumes in the Youth/Senior Room, Wed, Sept 12 at 7:00 to 8:30 PM and meets weekly thereafter.
Trinity Men – meet monthly for Breakfast and the study of God's Word in the Hicksville Diner. Meetings resume on September 8 at 8:00 AM and are held on the 2nd Saturday of each month.
Sunday Morning – at 10:45 AM in the Youth/Senior Room there is an Adult Liturgical meeting. The group discusses various Bible-based topics and explores their application to daily life
 New Bible Studies – beginning Fall 2018
Wednesday Evening – Pastor Hopkins will direct a Bible Study at 7:00 PM, using Facebook Live. Further details will be announced in the Bulletin.
Sunday Morning #2 – This Study is intended for anyone who is looking for a comprehensive introduction to the Bible, Luther's Catechism and Lutheran Doctrine. The first session is Sept 16 following the 9:00 service. Grab a cup of coffee and a snack and meet us in the Stammel Center.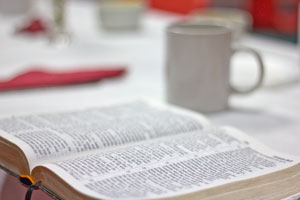 For I am not ashamed of the gospel, for it is the power of God for salvation to everyone who believes… Romans 1:16a