T rinity's music program is quite strong, featuring a tremendously gifted organ/choir director and a truly inspiring youth, adult, and handbell choir, in addition to the relatively new addition of the contemporary band. The praise band performs songs from contemporary artists including the Newsboys, Jeremy Camp, Casting Crowns, Chris Tomlin, Lincoln Brewster, and many others, hoping to inspire those members both young and young at heart who enjoy this kind of music in a church setting.
Choirs
Music is a very important part of the Lutheran tradition, and the choir has been the traditional leader of this music. Trinity Lutheran Church is truly blessed to have multiple vocal and handbell choirs to enhance the worship experience. The psalmist wrote, "Sing unto the Lord a new song, for he hath done marvelous things." I encourage you now to do the same.
Below is a list of Trinity's choral and handbell choirs. If you would like to join a choir, or would like more information concerning any of the groups please contact Henry DeVries by phone (516-931-2225), or e-mail (hdevries@trinityHicksville.org)
REHEARSAL SCHEDULE
Cherub Choir – Grades K-1 Thursdays 3:00-4:00pm
Sounds of Praise – Grades 2-5 Thursdays 3:00-4:00pm
Youth Ensemble – Grades 6-12 Wednesdays 8:15-9:00pm
Trinity Handbell Choir – Thursdays 6:45 – 8:00pm
Trinity Choir – Thursdays 8:00-9:30pm
Praise Band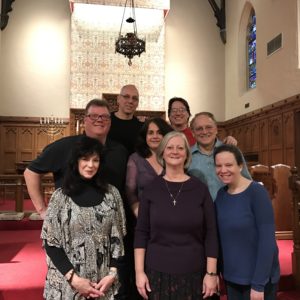 T rinity's praise band strikes a chord with fans of Christian contemporary music by playing upbeat and uplifting songs during the contemporary Sunday morning worship services. The big-hearted volunteer musicians, featuring Wayne Hoeberlein on piano, Paul Viole on drums, Tim Prohinsie on acoustic guitar and vocals, and Linda and Howard Hoeberlein, Katie Mittler, Betsy Lazarek and Valerie Sutcliffe on vocals, perform every second and fourth week of the month during the contemporary worship service at 10:45am in the church.
The band has performed at various functions in addition to its twice-monthly services, and looks forward to future opportunities to share the good news in song. The contemporary worship is enjoyed by many and will continue to be a valued part of the worship experience here at Trinity.
ANNOUNCEMENTS
THE PENNSYLVANIA YOUTH CHORALE will again be with us at Trinity from June 5 – June 7. Those of you that were at their concert or at worship when they sang know what a great group of singers these young people are. Those of you that housed them last year know what fine group of people these singers are. They again will perform a concert for us after church on Saturday, June 6 and sing during the 9:00am service on June 7. We are looking for housing for the choir while they are here. This would involve picking them up early Friday evening, June 5, bring them back Saturday morning, take them home on Saturday after the concert and return them to church Sunday morning. They would also need a quick breakfast Saturday and Sunday. If you are able to house 2 or more of these singers (they come in 2's) please contact the church office or Henry DeVries. We are very excited about this event, they were only able to bring two-thirds of the choir last year, this year we will be blessed with the entire group. Please consider helping us to house them.